The Compliance Space testimonial - Royal Academy of Music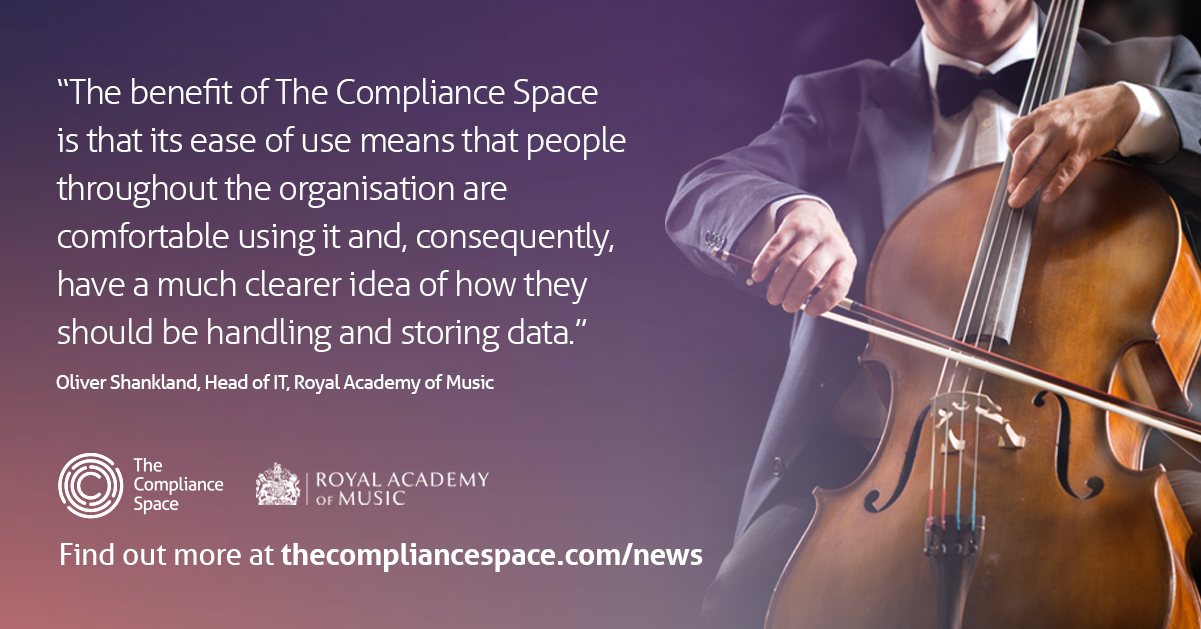 Royal Academy of Music fine tunes its information governance with The Compliance Space
London's Royal Academy of Music may be the oldest conservatoire in Britain, but it is an institution with both a global outlook and a firm eye on the future. This forward-looking perspective is crystallised in the way it defines its purpose as "supporting the musicians today whose music will move the world tomorrow".
The data privacy need
Home to a population of students from over 60 countries, the Academy is responsible for swathes of personal data. As well as being part of The University of London, the Academy also works collaboratively with world-class music schools and organisations around the world – adding a further dimension to its data burden.
True to its forward-looking approach, the Academy's ICT department recognised the benefits of having a centralised management tool for meeting its information governance responsibilities.
The Compliance Space solution
An early adopter of The Compliance Space, the Academy has been using the platform since the beginning of 2019 and during that time it has brought significant benefits:
Easy to use and integrate with existing systems, engagement is high and there are 50 active users on the platform on a regular basis from across the organisation.
With clear visibility of all IT architecture, the ICT team can more easily assess and manage risk.
What the client says:
Oliver Shankland, Head of ICT at The Royal Academy of Music, said:
"The benefit of The Compliance Space is that its ease of use means that people throughout the organisation are comfortable using it and, consequently, have a much clearer idea of how they should be handling and storing data. Since its introduction it has helped to raise awareness of all the data that we manage and has had a positive impact on our data management practices.
"The recent addition of the reporting module adds a great layer of functionality across the platform and provides my team with valuable insights about how the system is being used. We can use this to tailor our approach, refine our communications and ensure everyone understands their role in meeting our information governance responsibilities."
Get in touch
To find out how The Compliance Space can help your business then fill out our contact form and someone will be in touch shortly to discuss your requirements.