Reputation Matters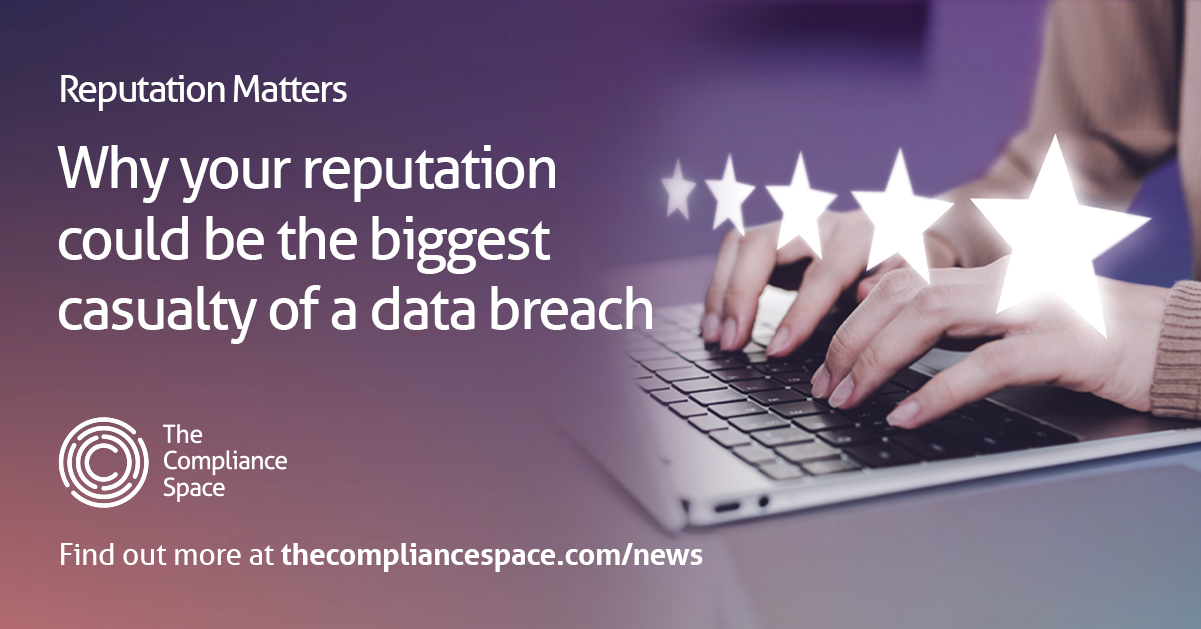 Why your reputation could be the biggest casualty of a data breach
In an age where consumers in the b2c and b2b sphere can rate a company at the click of a button, reputation is more important than ever before. As well as online reviews and social media comments, positive brand reputation can evolve through press coverage, word of mouth or peer-to-peer recommendations. For ambitious SMEs, establishing a reputation for being reliable and trustworthy is essential for business growth.
However, a negative incident can undo many weeks, months and even years of hard work, eroding the trust a customer has for the brand. That is why companies put so much effort into protecting their reputation with a best practice approach to the way they deliver their services.
In this data-rich age, it is vital that this best practice approach extends to the way data is handled, managed, and processed – today's customer is placing trust in an organisation to treat their personal data with care, in the same way they would expect the bank to look after their money. Failing to do so could cause serious damage to an organisation's reputation.
If a 'data subject' – which can include customers, clients, partners, or students, just to name a few – feels that their data has been misused or doesn't feel that your organisation takes data protection seriously, then the knock-on impact can be more detrimental than a bad review of your services. Not only would your reputation take a hit, but there could be additional financial consequences beyond that. Notwithstanding the potential fines or legal implications of not meeting your data protection obligations, the task (and cost) of trying to repair a damaged reputation can be even more significant.
Data protection applies to businesses of all sizes
Data protection can seem like a complex area to navigate, particularly since the GDPR came into force three years ago. This comprehensive piece of regulation doesn't just apply to big corporations – the simple fact is that if your business processes or manages personal data, then it will need to comply with the regulation, whether you are a team of 2000 or two. For smaller organisations, who may not have access to an in-house data protection expert, this can be more challenging to navigate.
So, what are the fundamentals of good data management?
1. Know everything about your data
When it comes to the data you collect, ask yourself the following questions - is the data being shared internally, externally, or both? What will it be used for? Who has access to the data? Where and how is it stored? It is crucial to have a deep understanding of how data flows through your organisation so if you are ever challenged, you have the systems in place to deal with the query.
2. Create a data positive culture throughout your business
Ensuring your employees have a greater understanding of why data protection is important not only shares responsibility, but it also creates a positive culture too. You can read more about how to get your people on-board and embed data protection in your business in a previous blog here.
3. Check your data gathering methods are compliant
Whether you capture data via a hard copy form, or via your website or social media, it is important that these are structured and worded in the correct way to be GDPR compliant - for example to show that the data you are requesting is necessary for your business' purposes.
4. Consider a data management platform to do the 'heavy lifting'
Many businesses now automatically use an online platform to help manage several aspects of their day-to-day operations, from accounting to customer relationship management. Data protection can be included in this. Housing all your data, as well as any policies, procedures, and access requests, on one platform such as The Compliance Space, rather than relying on inefficient spreadsheets or hard copies, greatly reduces the risk of data mismanagement.
Reputation matters
In a busy and competitive world, having a positive reputation can be a key differentiator for an SME. That is why experiencing a data protection misstep is not only a major administrative task to overcome – it can also have a significantly negative impact on reputation, particularly if it becomes public.
Taking a few simple steps to embed a positive data protection culture across your organisation will both help to keep your reputation intact, and ensure your business continues to thrive.
To book a demo of The Compliance Space, please click here.
Get in touch
To find out how The Compliance Space can help your business then fill out our contact form and someone will be in touch shortly to discuss your requirements.