New Features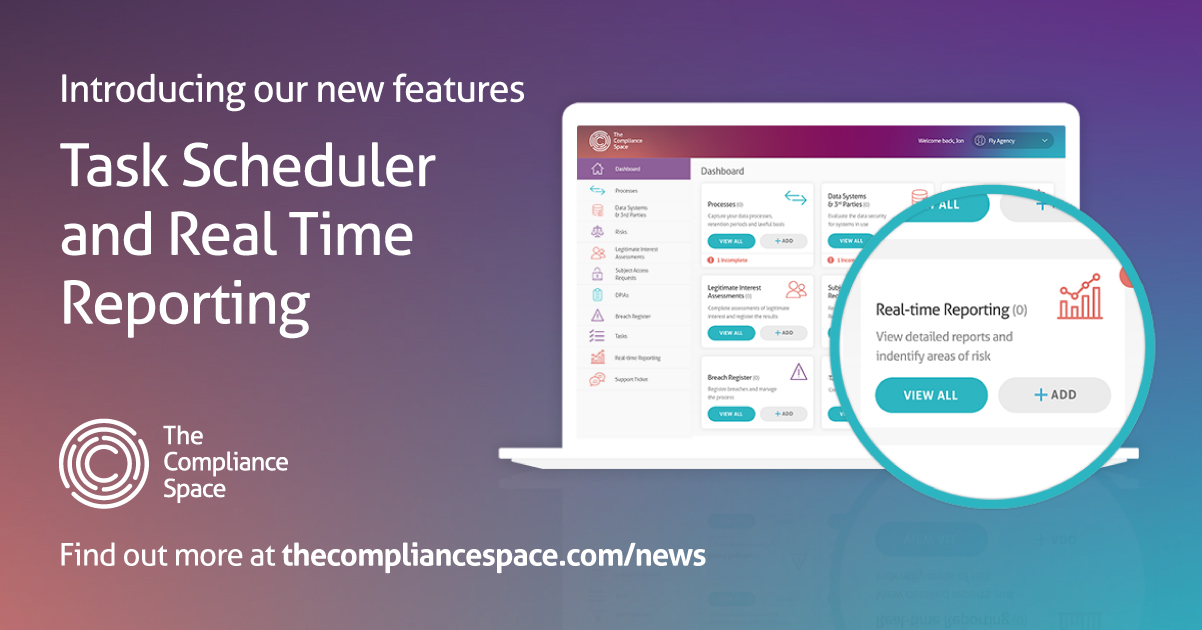 Online information governance platform, The Compliance Space, has increased its functionality with three new features to help data-rich businesses effectively manage their data privacy obligations.
The features – an intuitive reporting function, task scheduler and role-based access control –provide both consultants and end users of The Compliance Space with increased visibility and accountability of the way data is being stored, handled and shared throughout an organisation.
The new reporting function provides users with a detailed picture of how effective their data privacy processes are in real time, as well as identifying areas of risk. These analytics are available to download as live, easy to navigate reports on key insights such as the volume and type of subject access requests and the nature of breaches experienced.
Meanwhile, the task scheduler module, which is integrated into the main dashboard, enables users to both create and assign tasks to relevant colleagues. With a built-in alert system to flag any overdue areas, it provides an effective way of monitoring activity and tracking progress. This is particularly useful for consultants who are managing data protection alignment for multiple organisations, and also helps to drive engagement in data privacy throughout an organisation.
Finally, the role-based access control function allows the main user to provide different levels of permissions, enabling them to manage who has access to each module and potentially sensitive information.
Paul Saunders, founder of The Compliance Space, comments:
"We created The Compliance Space to simplify the GDPR alignment process, allowing our clients to house everything on one easy-to-use platform. The software already allows users to effectively track progress against the nine modules, and the new features add a further layer of insight - enabling them to effectively manage their data privacy obligations and giving them all the information they need to adapt and optimise their data privacy strategy.
"In short, the new functionality is a built-in audit trail – providing complete transparency of what is working well and flagging any risks."
For more information, visit www.thecompliancespace.com
Get in touch
To find out how The Compliance Space can help your business then fill out our contact form and someone will be in touch shortly to discuss your requirements.