The Compliance Space testimonial - Alpha Plus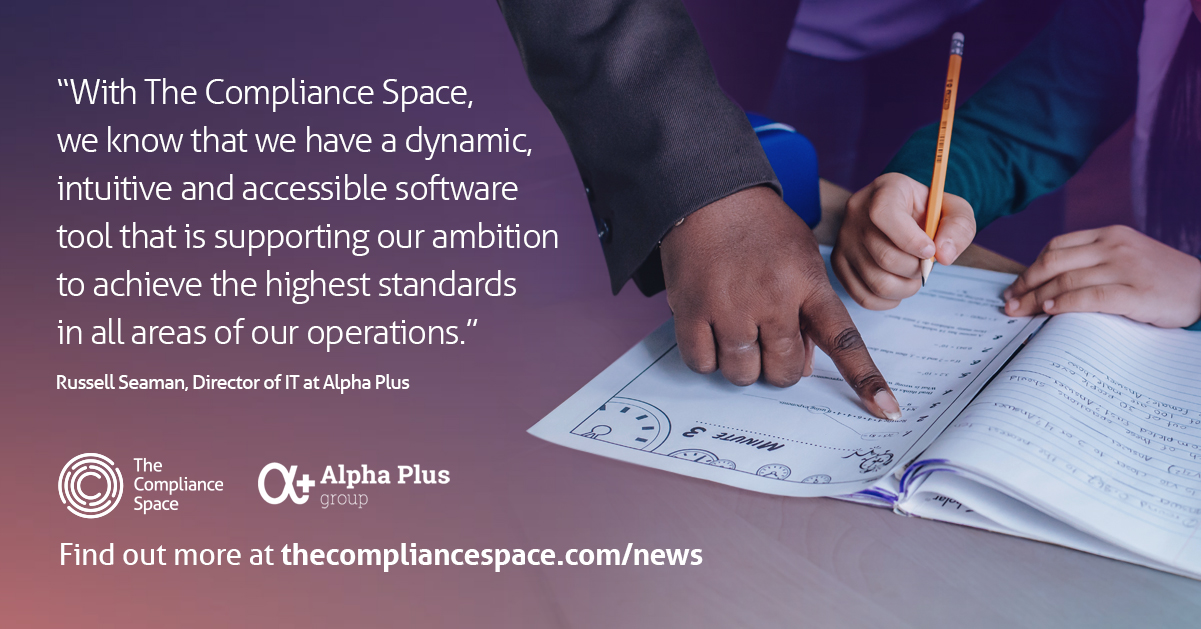 Full marks for The Compliance Space from Alpha Plus
Alpha Plus is a private education group with a simple aim: to give every child in its care the best possible start in life. Managing 20 schools, nurseries and sixth firm colleges, it is one of the largest providers of independent education in the UK and is expanding internationally.
The data privacy need
In an education environment, robust data management is paramount and Alpha Plus wanted a software solution that would provide a real time picture of how data is used, managed and stored across the entire organisation.
In The Compliance Space, Alpha Plus has found the comprehensive answer it was looking for, delivered in a way that is accessible and easy for its growing community of busy teaching staff.
The Compliance Space solution
For Alpha Plus, The Compliance Space has proved to be the perfect fit for its data management requirements in more ways than one.
The ease and speed of implementation was key, especially as this phase took place in the early stages of the Covid-19 lockdown.
It provides the 360-degree visibility needed and the ability to manage all the groups data privacy needs in one central location.
It is easy to use, ensuring engagement across the organisation is high. This in turn is changing behaviours and driving a more positive data-management culture.
What the client says:
Russell Seaman, Director of IT at Alpha Plus, said:
"The user experience from day one has been outstanding. It was so quick to migrate from our previous platform and it has been extremely easy to engage people around the organisation in this new approach.
"Pushing for continuous improvement is integral to our philosophy at Alpha Plus. In The Compliance Space we know that we have a dynamic, intuitive and accessible software tool that is supporting our ambition to achieve the highest standards in all areas of our operations."
Get in touch
To find out how The Compliance Space can help your business then fill out our contact form and someone will be in touch shortly to discuss your requirements.